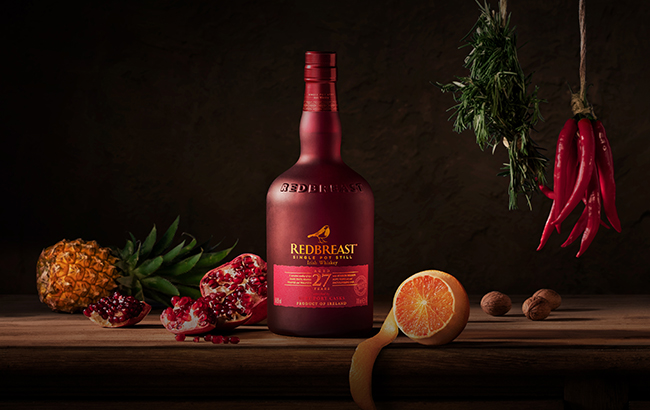 Redbreast 27 released – matured in port barrels
Pernod Ricard's Irish Distillers unit has unveiled its oldest permanent Redbreast Irish whiskey, a 27-year-old expression aged in Port barrels.
Redbreast 27 Year Old (54.6% ABV) has matured in ruby Port barrels from Portugal's Douro Valley. The barrels are said to offer "fleshy fruit characteristics with notes of toasted oak" that complement "the rich and robust style of the distillate".
It joins 12-, 15-, and 21-year-old whiskies in the Redbreast range, as well as the Lustau Edition.
Created by master blender Billy Leighton and blender Dave McCabe, the whiskey is said to further build the "celebrated foundation of Bourbon and Sherry casks so synonymous with Redbreast".
"It gives us great pleasure to reveal the latest member of the Redbreast Irish whiskey family," said Leighton.
"In creating this whiskey, Dave and I drew on our experience of working with Sherry and other wine casks over the years as we have evolved the range.
"This time, we wanted to push the boundaries and yet create an expression that would seamlessly take its place at the head of the family.
"Nearly three decades in the making, we are incredibly proud to present Redbreast 27 Year Old – a cask strength Redbreast expression that is a joy to behold in each and every sip."
McCabe said the barrels provide "notes of mango, pineapple and berry to the robust flavour of Redbreast 27 Year Old, clearly distinguishing it from the previous expressions in the collection".
Tasting notes for the whisky include "exotic fruits and red berries" on the nose, with "ripe stone fruits and summer berries, balanced by the prickle of a hint of chilli oil" on the palate. The finish brings "ripe fruit and wood spices".
Redbreast 27 Year Old is made in "limited quantities on an ongoing basis" and is available in 11 markets, priced at RRP €495 (US$553).
In May 2018, Irish Distillers launched Redbreast Dream Cask, a 32-year-old single pot still whiskey which sold out in six hours.
A year later, all 924 bottles of Redbreast Dream Cask Pedro Ximénez Edition sold out in just 14 minutes.
The firm recently updated the look of its Redbreast range, more than a century after the brand was first introduced.
Would you like to be part of our online whisky community and join one of our whisky groups?  Use the QR code below.