Highland
Highland is Scotland's largest whisky region boasts a dizzying array of styles, from rich and textured to fragrantly floral, as befits an ever-changing landscape of coastline, moor and mountain. Even without the famed Speyside enclave, you'll find some of Scotch whisky's most famous names here – and some of its most fiercely individual spirits.
The simplest way to sub-divide the stylistically disparate 30 surviving distilleries in the Highlands is by geography: Southern for those nearest the Highland Line; Western for the few scattered along the Hebridean coast; Northern for the eastern coastline above Inverness; Eastern along the coast either side of Aberdeen; and Central for the remaining cluster, mostly in Perthshire.
In the south, few distilleries remaining within easy reach of Glasgow and Stirling illustrate this diversity in microcosm: from grassily intense, deceptively powerful Glengoyne to multi-faceted, iconoclastic Loch Lomond; and from the evolving character of ex-mill Deanston to the nuttily fragrant resurrected plant at Tullibardine.
In the west, the serpentine curves of Scotland's Hebridean coast are now something of a wasteland for distilleries, but a newcomer is helping to change that: Adelphi's Ardnamurchan Distillery is the most westerly on the mainland and is set to produce a mix of peated and unpeated spirit.
The long road to its lonely location at Glenbeg makes Ardnamurchan's new visitor centre an unlikely bet for passing trade, but the other two Western Highland distilleries enjoy more efficient transport links: the maritime fruitiness of Oban and the muscly spiciness of Ben Nevis.
In the north of Highlands, the eastern coastline north of Inverness is a hotbed of whisky individuality. There's a general tendency towards medium-weight spirit with a hint of brine, but here you'll also find the lightly fragrant spice of Glenmorangie, the rich complexity of Dalmore and the uniquely waxy Clynelish.
To the east, ehe Eastern Highlands, taking in Banff and Aberdeen, and heading south towards Montrose, are home to wildly differing distilleries, from Glendronach and Glenglassaugh – tending towards a richer Speyside style – to the more austere, smokier delights of Glen Garioch and Ardmore.
Finally, in the centre, Perthshire once counted 70 or so distilleries within its borders; now there are only six in the whole of the Central Highlands. The survivors range from the thickly fruited spice of Aberfeldy and grassy Royal Lochnagar in the shadow of Balmoral, to the succulent honeyed richness of Dalwhinnie.
Highland Region Trivia
The Highland Region is the largest geographical area within Scotch whisky classification
Highland distilleries account for about 25% of Scotland's malt whisky production.  If you include Speyside, that number rises to more than 85%.
Only three distilleries are allowed to use the "Royal" epithet in their names.  All of them are in the Highland Region.  They are ROyal Brackla, Glenury Royal (now closed) and Royal Lochnagar.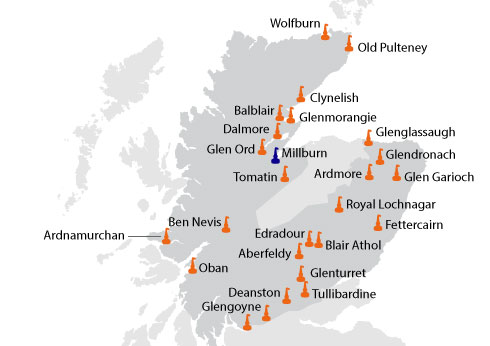 Showing the single result