Maker's Mark
Our prices change literally on a daily basis, which is why we no longer list prices on our site.  The best thing to do is to extract this QR code and contact us direct for today's prices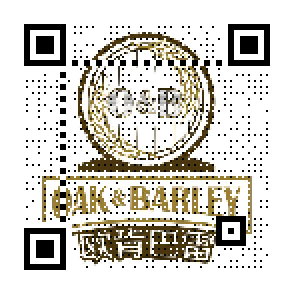 Description
Makers Mark is probably the best-known wheater around.  If you're not familiar with that term, a wheater is a bourbon that's made with wheat instead of rye in the mash bill which gives it a sweeter taste than most traditional bourbons that use rye . (along with corn and malt).
Legend has it that when the original owner of Maker's Mark, T. William "Bill" Samuels Sr., was trying to come up with the mash bill for his bourbon he had 7 options he was considering.  Since bourbon takes a minimum of 2 years to age he opted for making a loaf of bread with each of his 7 different options and the best-tasting one is what became his whisky (they drop the e at Maker's Mark).
Samuel's wife Margie created the name, drew the label and came up with the wax dipping for the bottle giving Maker's its signature look. One can't help but wonder what Maker's would have become if Samuel's was left to his own devices.  Also, during the creation of his bourbon, Samuels supposedly gained additional assistance from the one and only Pappy Van Winkle himself who has the second most well-known wheaters, though definitely the most coveted, named after him. All in all, it's quite a storied bourbon with a taste to match the tale.
Tasting Notes
Nose:  That unforgettable Maker's Mark bourbon spice hits first with waves of caramel, cinnamon, malt and vanilla cream pie coming in one after another.
Palate: Again that Maker's Mark bourbon spice, caramel, vanilla, cherries and a hint of citrus. There is a slight nuttiness that resides in this whisky.
Finish: A Long dry finish of oak, caramel and a hint of corn.  Good balance with a medium body. Smooth and easy to drink neat or on the rocks with a nice warming sensation going down.
What some of our whisky enthusiast friends have said about Makers Mark
Quote 1 "This is my favourite bourbon for the price. Being hand-made in America with a unique presentation and interesting history. Maker's Mark sets itself apart from the competition. Give it a try!
As an aside, try drinking this chilled and you will see just how much more sweet it gets."
Quote 2 "I've come to the conclusion that this is the best drink ever. I've sipped maybe five to ten bottles of this and after something else, still return to the sweet vanilla taste with just the right bite of alcohol.
Don't give a bottle to a cognac drinker… you have to give him another one."
Quote 3 "On the nose, less sweet than four roses, much corn and barley. Some cranberries in the background, white pepper gives a kick.
On the palate, harsh with alcohol, some floral notes that end quickly and turn sour due to the mash. Some soft, but flory wheat bread along the way as a distinct note, like a voice that is too silent to be heard. After this it starts to bite again, turns sweet with corn and cranberries, the finish is not very memorable. Leaves an oaky aftertaste; Leaves a taste of ale in my mouth, because of the mash, which has barley in it.