Benchmark Old Number 8
Our prices change literally on a daily basis, which is why we no longer list prices on our site.  The best thing to do is to extract this QR code and contact us direct for today's prices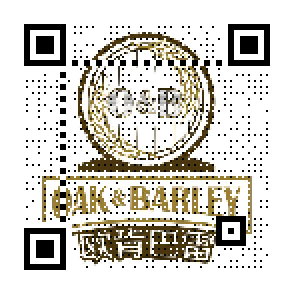 Description
Benchmark Old Number 8 is from Buffalo Trace Distillery, who make a lot of different bourbons from just a few mash bills.  Age and placement in the warehouses determine the rest. Their #1 mash bill is a low-rye bill (less than 10%) and makes some big names: Eagle Rare, George T. Stagg and Stagg Jr., Colonel E.H. Taylor, the eponymous Buffalo Trace, Old Charter, and McAfee's Benchmark Old Number 8.
Tasting Notes
Nose:  Candy corn, butterscotch, toasted grains, vanilla, corn and light bits of tart caramel apples, nuts and a creamy acidic nature like sour cream.
Palate:  Candy corn, caramel corn, vanilla, nuts, grain and a touch of oak and spice.  The palate is more muted than the aroma, but there's nothing offensive going on so there's nothing to get too worked up about.
Finish: Short drop of nuts, oak, vanilla and spice.
Overall: The aroma of the McAfee's Benchmark Old No. 8 Bourbon is a bit more dynamic than the flavor and presents a more interesting experience.   It's perfectly drinkable and inoffensive.
Awards for Benchmark Old Number 8
Silver – 2019 – San Francisco World Spirits Competition
Silver – 2019 – Denver International Spirits Competition
Gold – 2018 – New York International Spirits Competition
Gold – 2018 – Los Angeles International Spirits Competition
Silver – 2018  – San Francisco World Spirits Competition
"Tried & True" – 2018 – 92 points – Ultimate Spirits Challenge
Silver – 2018  – Denver International Spirits Competition
Bronze – 2017 – New York World Wine & Spirits Competition
Silver – 2017 – IWSC
Gold – 90 points – 2017 – Los Angeles International Spirits Competition
Silver – 2017 – San Francisco World Spirits Competition
"Great Value" – 2017 – 94 points – Ultimate Spirits Challenge
Silver – 2017 – Denver International Spirits Competition
Double Gold – 2016 – New York World Wine & Spirits Competition
Silver – 2016 – IWSC
Silver – 2016 – Los Angeles International Spirits Competition
"Great Value" – 2016 – 93 points – Ultimate Spirits Challenge
Bronze – 2016 – San Francisco World Spirits Competition
Silver – 2015 – New York World Wine & Spirits Competition
Silver – 2015 – Los Angeles International Spirits Competition
Gold – 2015 – San Francisco World Spirits Competition
"Great Value;" "Tried & True" – 2015 – 88 points – Ultimate Spirits Challenge
Silver – 2014 – New York World Wine & Spirits Competition
Gold -2014 – IWSC
Gold (90 points) – 2014 – Los Angeles IWSC
Silver  – 2014 – San Francisco World Spirits Competition
Gold – 91 points – 2013 – Los Angeles IWSC
Silver – 2013 – San Francisco World Spirits Competition
Excellent/Strong Recommendation; Great Value – 2013 – Ultimate Spirits Challenge
Bronze – 2013 – Spirits of the Americas