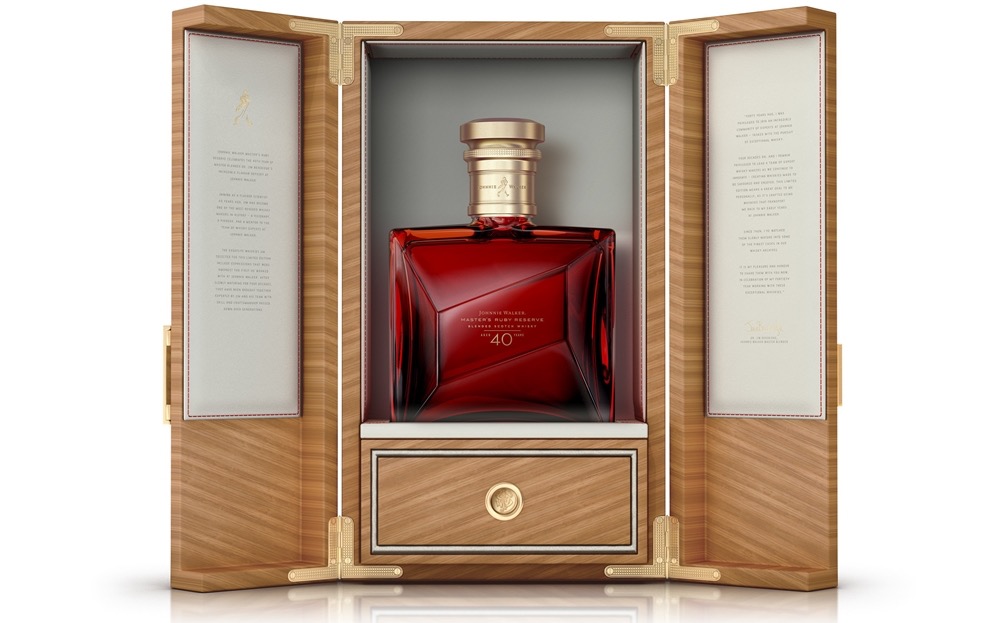 Johnnie Walker Master's Ruby Reserve
An exclusive whisky as a tribute to Jim Beveridge
The Master Blender celebrates its 40th anniversary in the business
Cambus, Carsebridge, Pittyvaich and Port Ellen – the list of Ghost Distilleries, whose whiskies were blended with those of Talisker, Royal Lochnagar, Glendullan and Cragganmore for this special Johnnie Walker Master's Ruby Reserve, makes whisky fans curious. Only 398 bottles were produced of this special Johnnie Walker. Given the bottle price of £15,000, most of you will quickly put the wish "I want it" aside, but there will probably still be enough people interested in buying this special edition.
Forty years of whisky career
The Johnnie Walker Master's Ruby Reserve is released on the occasion of the 40th anniversary of Master Blender Jim Beveridge, as an actual press release informs. Last year Beveridge was awarded the OBE, the Order of the British Empire for his services to the Scotch whisky industry. For this special Johnnie Walker edition, the expert was asked to select and blend eight whiskies that "evoke his earliest whisky-making memories". The Johnnie Walker Master's Ruby Reserve therefor a kind of exemplifies Jim Beveridge's career. All whiskies that were blended for this release, which was bottled at 43% ABV, are at least 40 years old.
Aroma of the Johnnie Walker Master's Ruby Reserve
Beveridge describes the Johnnie Walker Master's Ruby Reserve as follows: "The 'ghost' whiskies from Cambus, Carsebridge and Pittyvaich bring layers of rich fruit flavour. We've combined this with the flavours of dark chocolate, plums and cherries found in the wonderfully aged expressions of Royal Lochnagar, Glendullan and Cragganmore and the soft aromatic sea salt notes of Talisker and Port Ellen – creating a beautiful, full-bodied whisky."
Decanter made of golden-red crystal
The press release does not reveal anything about the cask types that were used to mature the whisky. The name "Ruby Reserve" does not refer to maturation in Ruby-Port casks, as one might suspect, but to the colour of the special decanters in which the whisky is presented: the colour stands for the ruby anniversary that Jim Beveridge celebrates, we learn. Those are golden-red Baccarat decanters. To achieve this special colour, the clear crystal is fused with 24-carat gold powder at 540 ° C.
Would you like to be part of our online whisky community and join one of our whisky groups?  Use the QR code below.