Kavalan Distillery Select No. 1
Our prices change literally on a daily basis, which is why we no longer list prices on our site.  The best thing to do is to extract this QR code and contact us direct for today's prices.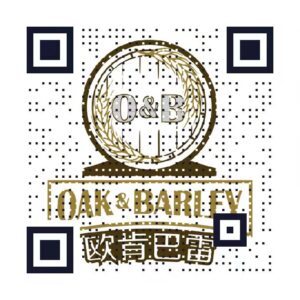 Description
Kavalan Distillery Select creates a rich yet mellow layered taste using exquisite barrel art with consummately skilled blending workmanship.  The unique tropical fruit fragrances of Kavalan and the cream caramel embellished with wood and vanilla scents offer the ideal lingering flavours. These are the meticulous works specially selected by the blender.
This elegant, quintessential single malt celebrates the craftsmanship of Kavalan's master blender. Released after his hat trick of top prizes: The Icons of Whisky's 2018 "Distiller of the Year" and its 2017 "World Brand Ambassador", as well as the World Whiskies Awards' 2015 "Distillery Manager and Master Distiller of the Year".  Master Blender Ian Chang has set out to create the purest and creamiest of whiskies that's sure to satisfy the discerning whisky connoisseur .  Featuring Kavalan's signature fruity sweetness and full body, Distiller's Select has been aged in quality casks to lock in rich layers of butterscotch, toffee and vanilla that intensify into a long, encored finish.
Tasting Notes
Colour: Light golden.
Nose: Orange zest, caramel, honeysuckle, spice, dried mango.
Palate: There is a burst of spiciness and burn on the front palate. The second sip calms down the intensity and you begin to dissect the flavours. The obvious are resin, honeysuckle, cigar box, orange, and manuka honey. But as you progress there are deeper elements of charred wood, fresh cracked black pepper, and candied tangerine, even mango, and red delicious apple. To be sure, this is not a smooth entry. It plows its way into your mouth and sets it on fire. If you want a subtle sipping whisky, this is not your choice.
What some of our whisky enthusiast friends have said about Kavalan Distillery Select
Quote 1 "Good Value Taiwanese.  Wonderful entry level Kavalan with lots of flavours coming out. Malty with notes of banana bread. I find it interestingly creamy on the palate. I would recommend this whisky to anyone who wants to try a Kavalan, for a young NAS whisky. Besides, it is well balanced. Took a last nosing of this beautiful whisky and lots of toffee notes coming through. 10/10″
Quote 2 "Compared to all the other whiskies in the range, it is definitely more on the lighter side of drinking. The nose is rich with lots of flavor and the palate is sweet wit a good amount of toffee that stands out. The finish is long and bold. A really good single malt to buy outside of the standard whiskies available."
Do you have a different opinion?  Add your own thoughts below.