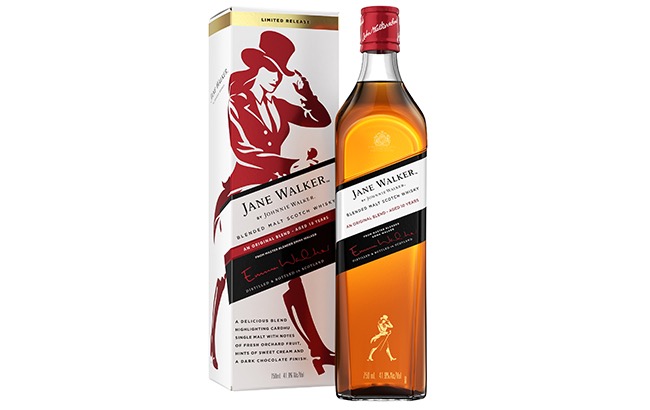 Jane Walker 2020 has been released as part of the new Diageo Craftswoman program.  Diageo's Craftswomen programme aims to celebrate the ladies involved in the crafting of their spirits.  The initiative highlights the talents of Johnnie Walker master blender Emma Walker; Bulleit blender Eboni Major; Crown Royal master whisky blender Joanna Scandella; Ron Zacapa master blender Lorena Vasquez; Buchanan's master blender Maureen Robinson; Cascade Hollow general manager and distiller, Nicole Austin, and many others.  Diageo has also partnered with biannual magazine Cherry Bombe to connect with trailblazing women across the food and drinks world through a podcast tour.
To coincide with the launch of Craftswomen, Diageo has released a new Jane Walker by Johnnie Walker bottling, following the launch of the 2018 release.  The new blend was created by Emma Walker and is made with whisky from the Speyside distillery Cardhu.
The new whisky is said to have notes of ripe orchard fruit and white peaches, which develop into hints of baked apple and sweet cream, with a lingering dark chocolate finish.  Bottled at 41.9% ABV, Jane Walker by Johnnie Walker is priced at US$38 per 750ml.
We'll be trying to get our hands on this as quickly as possible with a hope that it's going to be somewhere between Red Label and Green Label with respect to the flavour profile without the smoke of Black Label.
Johnnie Walker will also launch an industry programme and event series under the Craftswomen platform to support more female entrepreneurs across food and drink. Diageo will reveal further details in the coming months.
Would you like to be part of our online whisky community and join one of our whisky groups?  Use the QR code below.